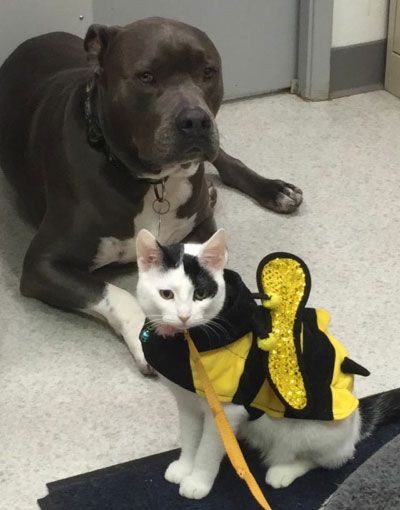 The team is always standing
by ready to help you!
We offer a wide range of services to help care for your pets. Our clinic is equipped to handle everything from regular health checkups to emergency services including surgery. We use all state of the art equipment and the newest technological advances to ensure a clean, safe, and welcoming environment.
Services
Preventative Care
Physical Examinations
Vaccinations
Heartworm Blood Testing
Parasite Checks and treatments
Microchip implantation
Dental Scaling
Diagnostics
Blood Testing (in hospital or sent out to reference lab)
Blood Pressure Checks
Cytology (in hospital or sent out to reference lab)
Cultures (sent out to reference lab)
EKG
Fecal analysis
Urinalysis
Digital Radiographs
Ultrasound
Surgical
Ovariohysterectomy (Spay)
Orchiectomy (Neuter)
Ultrasonic Dental Cleaning +/- Extractions
Tumor Removals (with Biopsy sent out to reference lab)
Orthopedic Surgeries
Most General Surgeries
Emergency Surgeries
Therapy
Regenerative Stem Cell Therapy
Erchonia Laser Therapy
Boarding
Canine and Feline Boarding Facilities
Hospitalization available also
Grooming
Nail Trims
Anal Gland Expression
Ear Cleaning
Other Services
In Hospital Pharmacy
24/7 Emergency Services please call (808)346-0655


Products
Flea/Tick Prevention
Bravecto for Canines and Felines
NexGard
Revolution for Felines
Heartworm Prevention
* ALL canines NEED to be heartworm tested within one year in order to purchase Heartworm prevention*
Food
Hill's Science Diet Prescription Diets
Miscellaneous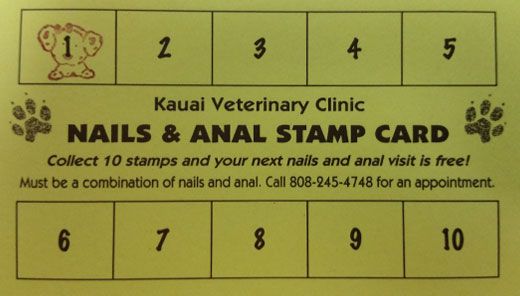 After 10 nail and anal appointments the 11th is free! Schedule your appointment to get your stamp card on your next visit.
Call Today!
808-245-4748
The Only AAHA Accredited Veterinary Clinic on the Island