Welcome to Kauai Veterinary Clinic
We Offer 24/7 Emergency Services
Kauai Veterinary Clinic was founded in October of 1978 by Dr. Michael Woltmon, and Dr. Joanne Woltmon. The clinic initially began small, as a mobile clinic in the back of the Doctor's Station Wagon, with the goal of providing the best medicine and care possible for their patients.


Meet the Team
Kauai Veterinary Clinic's mission is to provide its patients, and their owners, with the highest possible quality of service and care.

​Meet the team that makes that happen everyday!


Helpful Tips and Tricks
Categories:
Tips and Tricks
Author:
Date:
2015-12-11
The holidays are a joyous time of year to celebrate with family and friends. Here are some tips on keeping your pets out of the vet's office this holiday season!
Categories:
Tips and Tricks
Author:
Date:
2015-12-11
Pets are wonderful additions that enrich our lives on a number of levels. They also can be quite curious and get into things around the house that may not be so good for them. The following is a short list of common household and yard substances to keep out of your pet's reach so they stay out of the vet's office.
Categories:
New to the Island
Author:
Date:
2015-12-11
Are you or your pets new to Kauai or the State of Hawaii? Are you a current resident who just recently became a pet owner? Here are some common regionally specific health concerns to be aware of to keep your pets healthy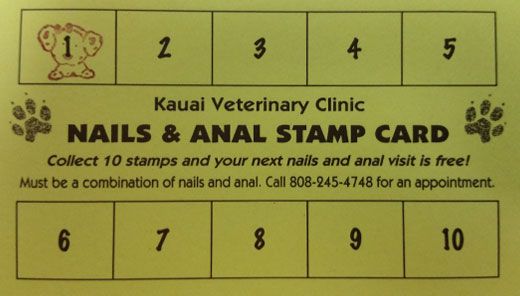 After 10 nail and anal appointments the 11th is free! Schedule your appointment to get your stamp card on your next visit.
Call Today!
808-245-4748
The Only AAHA Accredited Veterinary Clinic on the Island